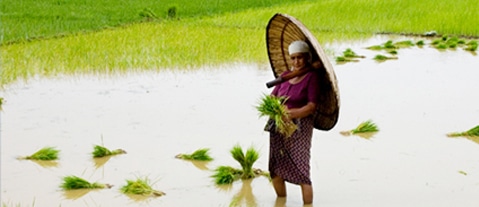 NATURAL BEAUTY, CLEAN AIR AND PRIMORDIAL GREENERY AMIDST THE VAST EXPANSE OF WATER AND SKY, TYPIFIES THE STATE OF KERALA – BETTER KNOWN AS GOD'S OWN COUNTRY.
Kerala is an Indian state located on the Malabar coast of south-west India. It was created on 1 November 1956 by the States Reorganisation Act, and it combined various Malayalam speaking regions. The state has an area of 38,863 km2 (15,005 sq mi) and is bordered by Karnataka to the north and northeast, Tamil Nadu to the south and southeast and the Arabian Sea[note] towards the west. Thiruvananthapuram is the capital city. Kochi and Kozhikode are other major cities.
Kerala is a popular tourist destination for its backwaters, yoga, Ayurvedic treatments[4] and tropical greenery. Kerala has the highest Human Development Index in India, comparable with that of first world nations but with a much lower per capita income.[5][6] The state has a literacy rate of 94.59 percent,[2] also the highest in India. A survey conducted in 2005 by Transparency International ranked Kerala as the least corrupt state in the country.[7] Kerala has witnessed significant migration of its people, especially to the Persian Gulf countries during the Kerala Gulf boom, and is heavily dependent on remittances from its large Malayali expatriate community
Kerala's history is closely linked with its commerce, which until recent times revolved around its spice trade. Celebrated as the Spice Coast of India, ancient Kerala played host to travellers and traders from across the world including the Greeks, Romans, Arabs, Chinese, Portuguese, Dutch, French and the British. Almost all of them have left their imprint on this land in some form or the other – architecture, cuisine, literature
One of India's most literate and socially advanced, the people of Kerala enjoy a unique cosmopolitan viewpoint, which is reflected in their spirit of tolerance and catholicity of outlook. This can be attributed to Kerala's composite culture to which several lands and races from across the world have contributed significantly.
Through the ages, Kerala has demonstrated a remarkable ability to adapt to new traditions and values in almost every sphere of human thought and endeavour. This positive response to changes and challenges is what sets the Keralan people as well as the society apart.
For More Details About Kerala Visit the Official Website of Kerala Toursim